The Huffington Post  |  By Ellie KrupnickPosted: 12/04/2013 9:00 am EST  |  Updated: 12/04/2013 9:07 am EST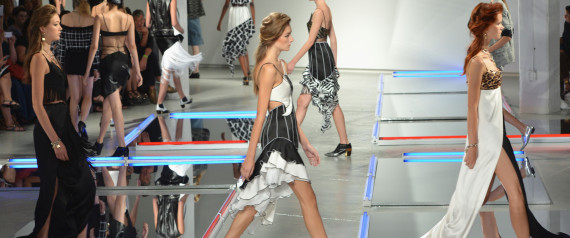 Plus-size models have become part of the conversation, breaking into editorials andgetting cast in ads they would have never been in before. But the final frontier, Robyn Lawley says in a new interview, might just be the runway itself.
In a talk with the Daily Mail, the popular size 12 model said frankly:
"It's disappointing as I love catwalk modeling, it's more exciting than being on a shoot so it sucks not to be included. Plus-size models are being used more in magazines and in the media but not on the runway and not by high-end designers like Prada. I'd love them to use more curvy girls but it's like a taboo and I don't know why. It screams lack of diversity."
Just a quick scan of the recent Fashion Week runways and Lawley seems to be correct. There were so few noticeably curvy girls on the runways of Milan, Paris, London and New York City, to the point where in recent years, the CFDA incorporated guidelines on eating disorders and healthy food habits into its New York Fashion Week model guidelines. Select designers have cast more diverse body types into their shows, including Jean Paul Gaultier. But he is the rare exception.
When you do see plus-size models on the runway, they are generally segregated in their own events, such as Full Figured Fashion Week in New York, Paris' inaugural Pulp Fashion Week and a recent presentation staged at Spring 2014 Fashion Week by retailer OneStopPlus.com.
But those runway shows, empowering and positive as they are, are rarely seen by the audiences viewing the mainstream fashion shows. And as Lawley told the Daily Mail, "It doesn't send out a good message to teenager girls who are impressionable. They're not coat hangers, they're girls and it's bad for them to only see skinny frames on the catwalk. I hope I can be a strong role model for them but there's not enough of us plus-size models."
Fall 2014 Fashion Week is just around the corner, kicking off in New York this coming February. Think designers will take notice of Lawley and her peers, including Candice Huffine, Tara Lynn, Leah Kelley and Jennie Runk, in time?
Read more from Lawley at DailyMail.co.uk.
A sampling of New York Fashion Week… see any curvy models here